Looking for a hunting companion? A family pet? Both? Then look no further than the Small Munsterlander. These dogs are special!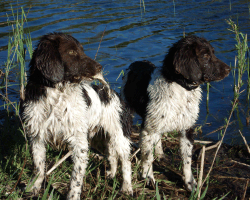 The breed 'Small Munsterlander' originates from Germany. We have travelled to Europe to obtain a regal bloodline that we can nurture into the best possible bloodline available in all of North America.
The Small Munsterlander is one of the oldest of hunting breeds. Their intelligence makes them readily trainable and they truly enjoy every working moment, best known for their natural ability to point, retrieve and track - for all realms of hunting such as waterfowl retrieval, upland game bird hunting and intricate tracking of fur bearing animals.
As an avid hunter, my Small Munsterlander has been my loyal hunting companion, one that has never let me down. True to the saying 'Dog is man's best friend'. But what I find most compelling about these dogs is their temperament. This breed is unbelievably versatile - a true loyal family pet that blends well into any household yet they are a hardworking sport athlete and furthermore always able to alert us to unexpected company.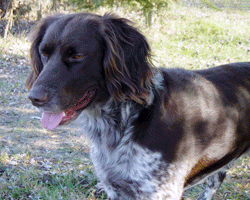 Von Der Linde Kennel's mission is to provide our clients premium dogs. Having a small home-based kennel ensures that our dogs are healthy and nurtured in a warm and loving environment. Our facility in Queensville, Ontario encompasses a dog's dream - plenty of running space, fresh air and wildlife. We will not waiver from keeping our dogs' lives as natural as possible.
If you would like to see this breed in action, simply send me an e-mail or call. It would be an honor and pleasure to show you my dogs in action and give you a sense of what your next best friend will be capable of!
I look forward to hearing from you.
- Ralf Bothe, Von Der Linde Kennels - Queensville, Ontario, Canada